Tricks to give medicine to your pet
Sooner or later, any disease, such as a simple otitis, will affect your pet. The disease will require the veterinarian to prescribe medicines.
We all know that managing them is not always easy. It may be that the hairy ones are restless, and they reject the medicines.
Many opt, in the case of pills, to camouflage them in a piece of bread or meat, a strategy that works quite well in dogs, but not in cats, because they usually eat only their concentrate, so it is not So easy to deceive them.
According to a specialist veterinarian, the ideal, when it comes to an agitated animal, is to put it on a firm surface, like a table, "but not on the floor because it is easier to run. For someone who is right-handed, hold the head from the top with your left hand and pull it back a little. At that moment the cat tends to open his mouth and that is when you have to insert the pill as deep as possible" explains the doctor.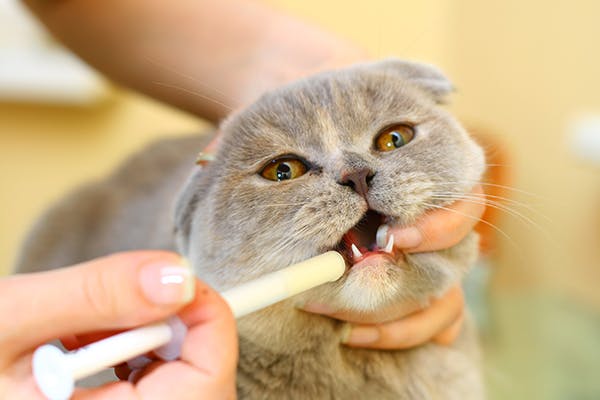 Cookies can also be used to camouflage the pastille for cats accustomed to these snacks.
In the case of dogs, with the left hand take the cheeks side and side and put them a little between the teeth. The dog will open his mouth and put the pill in.
It is important that small dogs and cats do not build too much force, so avoid injury to the gums.
When the medicine is a syrup, you have to be very careful, says the doctor, "because there is a risk that the dog or cat will broncoaspirar."
That is why it is recommended to supply it with a syringe, which is better put into the mouth on one side, lifting the cheek or lip, than on the front. "If the dose is very large, say 5 ml, it is recommended to give it a few to prevent it from getting stuck," comments.
If you need to apply ointments to your eyes, first wash your hands thoroughly and spread it on your index finger to apply it to the lower eyelid of your pet.
If they are drops, apply them at a distance so that the dropper does not touch the eye or, if the furry one moves, do not get hurt. If the problem is in the ear, it is necessary to try that the animal is at rest, to run the hairs and to apply the drops or the cream. If there are secretions, remove them before with a wet cotton.